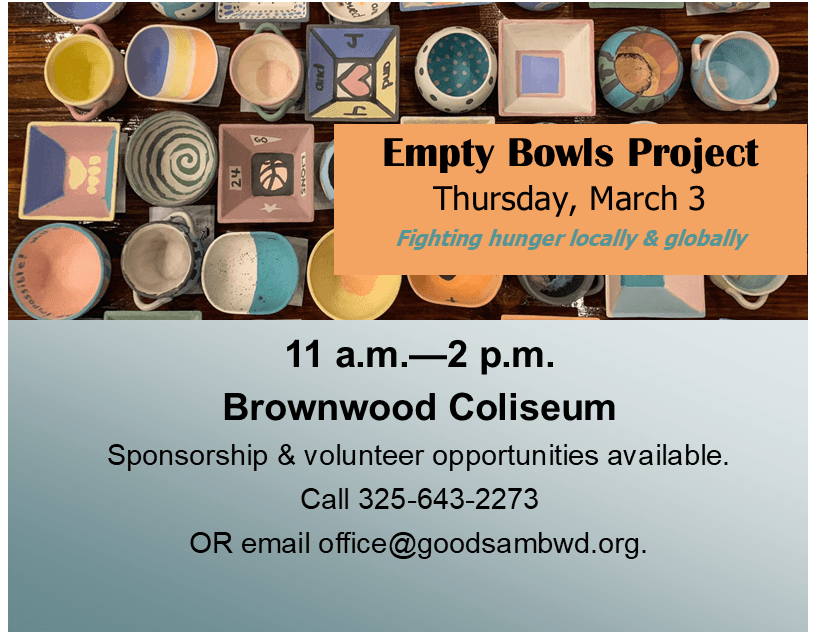 Empty Bowls 2022
This year's Empty Bowls Project will be back in the Coliseum on March 3rd. We are so excited to be back in this venue after two years of a drive thru event. For a  $10 donation you will receive a bowl and a bowl of  from one of our Soup-er Samaritan Food Sponsors. This year's event will be held from 11 am - 2 pm, with a Preview hour from 10 - 11 am, for an extra $10 donation. We will not have pre-paid bowls this year. 
This is our largest fundraiser of the year and 90% of the proceeds from the Empty Bowls project stay here in Brown County and benefit our local hunger ministries such as the Food Pantry, Food for Thought, Homebound Program, Homeless Boxes, the Deer Project, the Pig Project and the Mobile Food Pantry. This year's remaining 10% will be donated to Samaritan's Purse. 
For more information on how you can help, sponsorship opportunities or to be a food sponsor contact Leesa Stephens at 325-643-2273.